Routine 'Wellness' Care
We believe strongly that routine care and maintenance can prevent major medical problems. We like to have the opportunity to get to know you and your equine family when they are in good health, and hopefully not in an emergency crisis. Regular vaccines can prevent some of the devastating equine illnesses that we are facing today, such as West Nile disease. Dental health is as important for horses as it is for humans, and early care can give horses the chance of a longer, healthier life. Our spring and fall vaccine protocols include a thorough physical exam, including ophthalmological, dental, heart and respiratory assessments. This is a great time to update us on any non-emergency concerns that you may have so we can address them and include them in your horse's medical records.
---
Lameness Evaluation
One of the special interests of Arlington Equine is lameness and performance problems. We understand the frustration of an owner or trainer as they try to sort out whether they have a lameness issue or other problems such as shoeing, training or saddle fit. We have the diagnostic tools to help sort these issues out, as well as access to a facility with a round pen and an indoor arena for in-depth observation. Our doctors have the working knowledge of the various disciplines and we take the time to watch your horse work at the level for which you are training. Our equipment can help give us a timely answer, and we have a working relationship with referral practices that have more specialized tools such as nuclear scintigraphy, MRI, and advanced ultrasonography.
---
Chiropractic Care

Animal chiropractic is a manual therapy which focuses on restoring movement and balance to the spine.  Chiropractic, also called Vertebral Spinal Manipulative Therapy (VSMT), detects and alleviates biomechanical dysfunction of the spine so that the entire body can operate more optimally.  Chiropractic is concerned with keeping animals healthy, active, and energetic by supporting the innate intelligence of the body to function properly as a whole.  When used together, chiropractic and veterinary approaches can provide the maximum health benefits to animals so they can live long, happy lives.  For example, animal chiropractic can provide additional diagnostic and treatment options for lameness issues, acute or chronic pain syndromes, and performance problems.  Dr. Guy is certified by the International Veterinary Chiropractic Association and would be happy to discuss whether chiropractic therapy would be helpful for your horse or your small animal companions.  Dr. Guy sees small animal patients in the comfort of our office at Pullman Farm.
_______________________________________________________________________________________________________
Pre-Purchase Exams
Arlington Equine is proud to offer comprehensive pre-purchase exams. Whether you are buying your first back yard horse, or looking for a top level competition horse, our exams are tailored to meet your needs. We spend time to discuss your hopes and expectations of your prospective horse, and we make every effort to gather all pertinent medical information from sellers, farriers, and previous veterinarians. We believe that horse ownership is often a long-term family commitment and, regardless of the cost of the horse, we try to present you with all the facts that help you to make educated buying decisions. We can provide you with everything from a very basic check up, to diagnostic X-rays, ultrasound, blood work and drug screening. Our digital radiography systems allows for a more efficient and cost-effective examination, because it allows the veterinarian and buyer to view potential problems during the exam. Armed with this information, a decision can be made regarding whether or not to continue.
---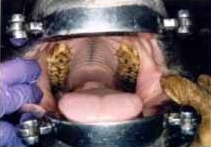 Dental Care
Routine dental care is one of the best investments that you can make in your horse's health. We are equipped with the latest hand and power tools to offer dental maintenance as well as corrective procedures for your horse. In addition to continuing education undertaken by Drs. Dowd and Guy, Dr. Corey Orava is certified as an advanced dentist with the AAEP and is available for referrals.
---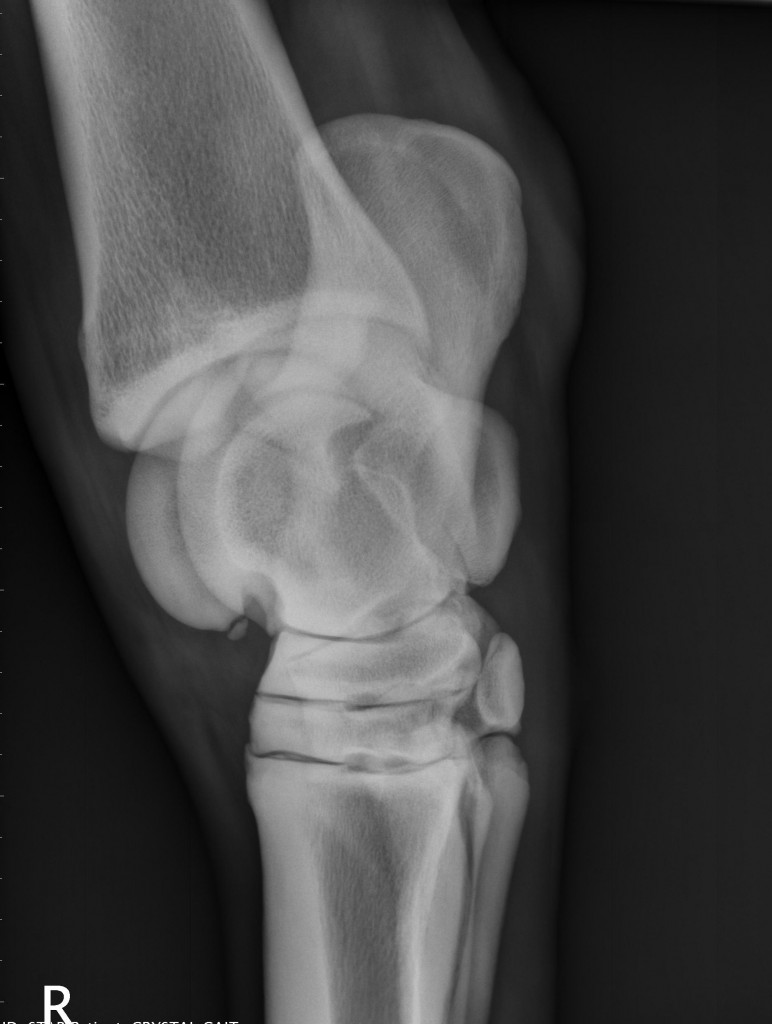 Digital Radiographs
Digital imaging has revolutionized ambulatory practice; it allows for immediate viewing of the images. This technology is particularly valuable for injuries that may need to be referred for surgery, where time is of the essence. In addition, the files can be emailed to a specialist for further interpretation if necessary. Stall-side viewing also facilitates productive consultations with farriers on particularly challenging podiatry cases, such as foundered horses.
---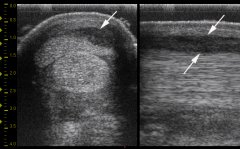 Digital Ultrasound
Ultrasonography is used primarily for diagnosing soft tissue injuries. It can visualize damage to tendons, ligaments, and bony surfaces in areas that are difficult to radiograph. Ultrasound can identify lesions within tendon structures (see image at left), helping to give a prognosis for required lay-up and healing time. It can be used for guided needle placement in treating sensitive areas such as lesions in the neck, spine and pelvis. Abdominal abnormalites can often be viewed and identified, and ultrasound is commonly used for reproductive work, making it possible to identify a pregnancy as early as 13 days.
---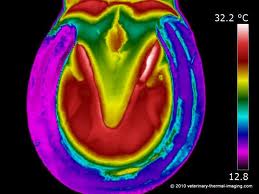 Thermography
Thermography uses a heat sensitive camera to identify very subtle changes in temperature, such as those associated with inflamed or painful areas in the horse.  It can be very useful in locating subsolar or coronary band abscesses.  Saddle fit can also be addressed by imaging the saddle area and the large muscle groups in the back.
---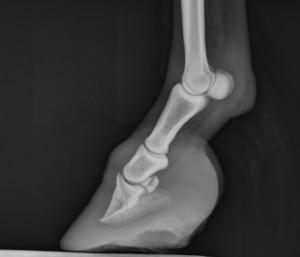 Farrier Consultations
Challenging podiatry cases require the close communication between the veterinarian, farrier, and owner. We believe strongly in coordinating the efforts of all the parties involved, so that the horse receives the best treatment possible. Our digital radiography system makes sharing images easy, and we make every effort to accommodate joint appointments in our schedules.
---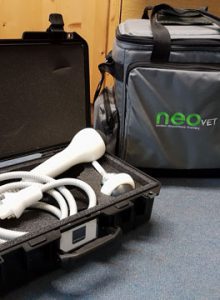 Extracorporeal Shockwave Therapy
Extracorporeal Shockwave Therapy (ESWT) is a used to aid healing for a variety of musculoskeletal problems.  These high energy pressure waves can be targeted to specific areas of tendon, ligament, or boney injury.  Research shows that ESWT provides pain relief and stimulates the release of healing factors, the penetration of blood vessels, and the growth of cells which create new bone and connective tissue.  Arlington Equine is excited to offer this non-invasive treatment option as an adjunctive therapy for tendon and ligament injuries, back soreness, degenerative joint disease, ring bone, navicular syndrome, and muscle tears.
Follow this link for an ESWT fact sheet developed by The Horse.
---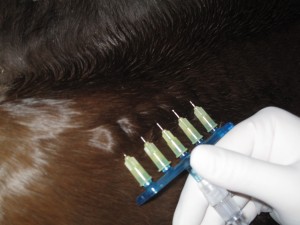 Mesotherapy
Mesotherapy is a technique which provides immediate, profound soft tissue pain relief through intradermal injection of anti-inflammatory medications.   It controls pain by blocking sensory pain fibers that pass through the skin and feed into specific spinal nerve roots.   Mesotherapy is a minimally-invasive therapeutic option that is particularly useful for horses with soreness in their neck, back, and/or sacroiliac regions.
---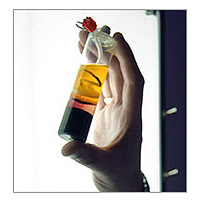 Regenerative Medicine
While conventional therapies for performance limiting injuries (i.e. intra-articular injections of corticosteroids) are still widely used in our practice, a new wave of regenerative therapies are also available. The last decade has brought about significant advancements which seek to increase the quality of injured tissues, rather than merely halting damage, by using the body's own healing factors. The benefits of Platelet Rich Plasma (PRP, pictured at left), Interleukin-1 Receptor Antagonist Protein (IRAP), and stem cell therapies are well documented for a variety of lameness problems.
---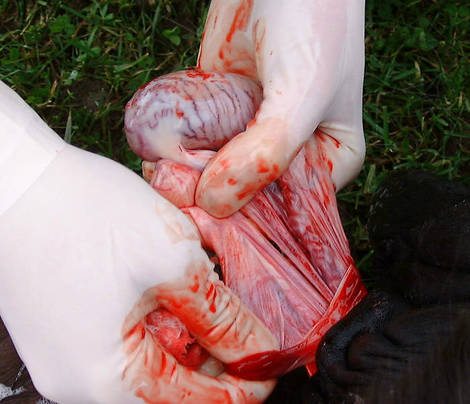 Field Surgery
We are equipped to perform standard surgical procedures which require sedation, general anesthesia, and/or local anesthesia. These surgeries include wound repair, castrations and tumor removal.
---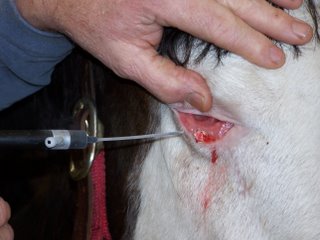 Cryosurgery
Cryosurgery is a very useful treatment modality using liquid nitrogen to freeze and kill skin tumors. Cryosurgery can be a less invasive way to remove lesions than open wound surgery, thereby reducing recovery time.
---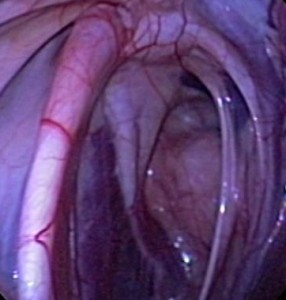 Endoscopy
Endoscopy utilizes fiber optic technology to allow us to view a horse's airways and esophagus. It is helpful in diagnosing breathing problems, as well as abnormalities in the guttural pouches, nasal passages, and sinus cavities.
---